Travel in a post COVID-19 Environment
As we open our doors to the world again; let's make sure our paradise island is as safe and secure as it can be against the ongoing pandemic. After a thorough analysis of the situation and following multiple consultations with all relevant stakeholders and health professionals, a set of guidelines and protocols have been listed out to assist those in the tourism sector to ensure a smooth transition to begin operations in the midst of this new normal.
Those in the tourism sector have been requested to adhere to these guidelines, as they are vital measures that have been taken to assure the protection of our tourists and ourselves. Safety measures have been implemented across the country so that travellers may enjoy a hassle-free stay; however it is the responsibility of the tourism establishments to adhere to the COVID safety
protocols, so that the reopening of the island may be a sustainable effort for the tourism sector as a whole.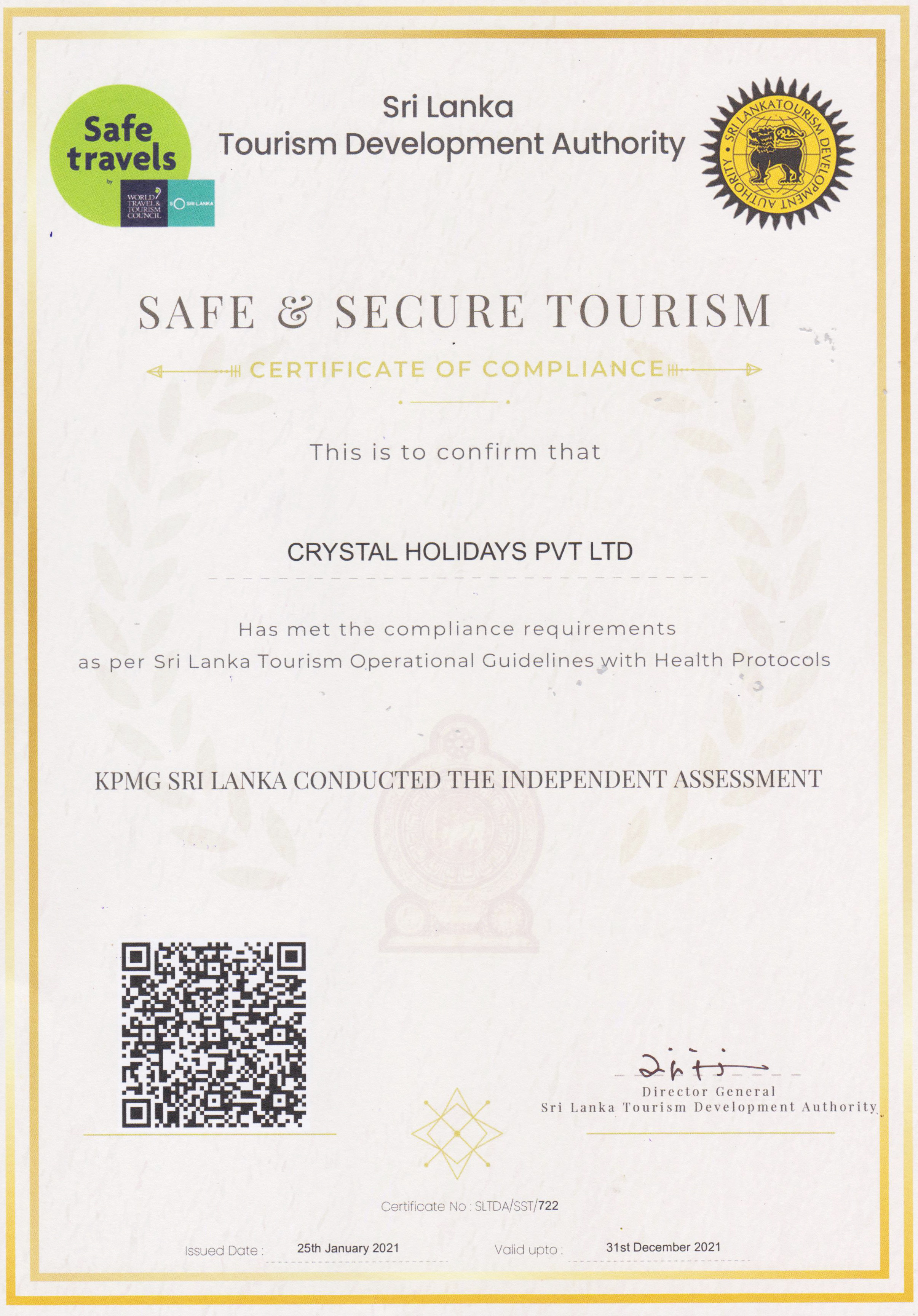 Summary of guidelines that should be adhered to when booking holidays to Sri Lanka.
AT THE TIME OF REQUEST:
No minimum nights required, however if clients stay in Sri Lanka during the first 14 days , it must be in level one hotel/s. Thereafter , clients are free to book other hotels and mingle with local community provided final PCR tests negative.
Transportation should be booked with an accredited travel agent during first 14 days. Clients are not permitted to use public transportation during first 14 days. It must be pre arranged.
Program will be amended if guidelines/procedures are amended by Government of Sri Lanka.
We will be using attractions and accommodations that are certified "Safe & Secure" or level 1 by the Sri Lanka Tourism Develoment Authority.
Compulsory travel documents prior to arrival must be finalized. (Eg: PCR test certificate, Health Declaration Form, online visa, booking payment & confirmation etc.).
During first 14 days, clients can travel to sites under a bio secure bubble and stay in hotels that are level 1.
Mandatory PCR tests ($ 40 per test) upto a maximum 03 tests if stay is 14 days (Refer point 19) and a COVID Insurance cover of $ 12 per person must be purchased along with hotel/tour booking.
Apart from the COVID insurance obtained above, it is highly recommended clients obtain a comprehensive travel insurance from country of origin.
AT THE TIME OF BOOKING CONFIRMATION:
Crystal Holidays will recheck the status of accommodation and attractions provided at the time of request and will inform of any changes.
Cancellation and payment policy will be provided clearly.
Payment to be made to Crystal Holidays after booking confirmation or 30 days prior to arrival (whichever comes first) as it is mandatory to pre pay the hotel accommodation,
COVID Insurance ($ 12) and PCR tests ($ 40 per test) and have proof of payment for visa purposes.
After payment a reference number will be provided by the travel agent which needs to be entered at the time of visa application. (You cannot proceed with visa without reference number)
PRE-TOUR:
We will recheck the accommodation/attractions and programs prior to arrival or at the time of booking in order to reconfirm that they continue to possess the "Safe and Secure" or level 1 certification or amended guidelines. Crystal Holidays has the right to change the hotels/program or any arrangements on tour if we do not feel it is safe and secure or if travel guidelines are changed.
03 days prior to departure, Crystal Holidays will require copies of mandatory documents (Negative PCR certificate in English from accredited laboratory, Travel insurance copy, passport copy, flight ticket copy, clients emergency contact)
Clients should carry copies of all mandatory & important documents when they travel.
It is recommended that clients carry sufficient cash / credit cards with them in case for any emergencies.
Mandatory documents required for processing online tourist visa (More information to follow)
All tourists entering Sri Lanka are required to obtain online tourist visas before arrival.
An online tourist visa fee of USD 35.00 per person (subject to change according to the country)
A reference number provide by Crystal Holidays which confirms that payment has been received for hotel/tour booking, PCR tests in Sri Lanka and COVID Insurance.
Pre pay 2 PCR tests along with hotel booking if stay is below 07 days, should the stay exceed 7 days, the traveler is required to purchase 3 PCR tests at the rate of USD 40.00 per PCR test depending on the number of days of the stay.
Mandatory COVID-19 Insurance cover at $ 12 (for a $ 50,000 cover over a period of 1 month) to be purchased with your travel agent along with hotel/tour booking
IN SRI LANKA:
Crystal Holidays will organize all transportation according to safety guidelines provided by the Sri Lanka Health Ministry.
All our drivers will be in PPE (Personal Protective Equipment) at all times. He will endeavor to maintain all safety protocols.
Disposable mask and hand sanitizers will be provided to all clients on arrival.
On arrival, a temperature check will be conducted. If on tour, a daily temperature check and log will be done.
If clients shows any symptoms, the driver will refer them to the health authorities for further evaluation.
While in Sri Lanka, clients should adhere to all safety guidelines. (Wearing face masks, keeping distance, following the program) Crystal Holidays will not take any responsibility if clients fail to adhere to the safety guidelines for which heavy penalties apply.
All vehicle will be properly sanitized prior to arrivals.
Country Health Guidelines:
A Negative PCR report in English language issued by an accredited laboratory within 96 hours prior to the landing in Sri Lanka.
Every arriving passenger should submit a completed Health Declaration Form (HDF) of Sri Lanka to health counters at the airport; The PHI's will scrutinize HDFs and passengers for COVID-19 symptoms and tourists with high risk conditions will be referred to the Airport Health Officer for further action.
If passengers develop COVID 19 or similar symptoms while in Sri Lanka, all medical & miscellaneous costs will have to be borne through clients insurance or by clients personally. The decisions & measures taken by the medical officer will be final.
** Above details are subject to change without notice depending on the guideline amendments. It is best you check with us for the latest updates prior to bookings.