WHAT DO YOU HAVE IN MIND?
EXCLUSIVE RESORTS
Ocean View Hotels, Suites & Villas with great excursions. Book Now on our web site. We can provide you with beach-access rooms and provide you with a great tour plan to enjoy your stay in Sri Lanka
OTHER RESORTS
We help you find the most unique, stylish and lovable hotels in Maldives with a great beach side view.
FACTS FOR MALDIVES TOURISTS
The Island
The Republic of Maldives consists of 1,190 islands (fewer than 200 are inhabited) in the Indian Ocean, southwest of Sri Lanka. The Maldives has a population of almost 300,000, of which about 104,000 reside in Male, the capital city. Beautiful atolls, inhabited by over 1,100 species of fish and other sea life, attract thousands of visitors each year. Tourism facilities are well developed on the resort islands.
Obtaining Tourist VISA

A valid passport, along with an onward/return ticket and sufficient funds, is required for entry. A no-cost visitor visa valid for thirty days is issued upon arrival. The Department of Immigration and Emigration routinely approves requests for extension of stays up to ninety days for travelers who present evidence of sufficient funds and who stay in a resort or hotel or present a letter from a local sponsor. Anyone staying over sixty days without proper authorization faces heavy fines and deportation. All visitors departing the Republic of the Maldives (except diplomats and certain exempted travelers) must pay an airport departure tax, which is usually included in the price of an airline ticket. Travelers need a yellow fever immunization if they are arriving from an infected area.
Transportation

Arrival by private boat: Travelers arriving by private yacht or boat are granted no-cost visas, usually valid until the expected date of departure. Vessels anchoring in atolls other than Male must have prior clearance through agents in Male. Maldivian customs, police and/or representatives of Maldivian immigration will meet all vessels, regardless of where they anchor. Vessels arriving with a dog on board will be permitted anchorage, but the dog will not be allowed off the vessel. Any firearms or ammunition on board will be held for bond until the vessel's departure.
BOOK YOUR HOLIDAY IN MALDIVES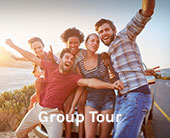 CUSTOMER REVIEWS
Lorem Ipsum is simply mmy text
These 2 weeks trip in Sri Lanka allowed me to discover a beautiful variety of landscapes, condensed on a small island.
First of all, there you can found the historical part in the North. This region includes the two oldest capitals of the Kingdom of Ceylon and archaeological sites not to be missed.
The central part of the mountains includes the religious capital of Kandy, a sacred city that is very important for Buddhist pilgrims, thanks to the Temple of the Tooth. Also, Nuwera Eliya with these tea plantations as far as the eye can see, offering a very relaxing and refreshing atmosphere than the rest of the country.
Then, I highly recommend the experience of the mythical blue train connecting the railway station of Nanu Oya to Ella, an authentic journey through beautiful landscapes.
In the South, you have different choices of national parks, especially the best known : Yala, where you can try to observe a leopard closer.
And finally, the endless beaches from Tangalle to Bentota, through the charming little walled city of Galle, which has kept traces of several settlements, where it's nice to take the time to stroll.

Lucie Padin

www.jerrycan-voyages.ch
FEATURED HOTELS AND RESORTS