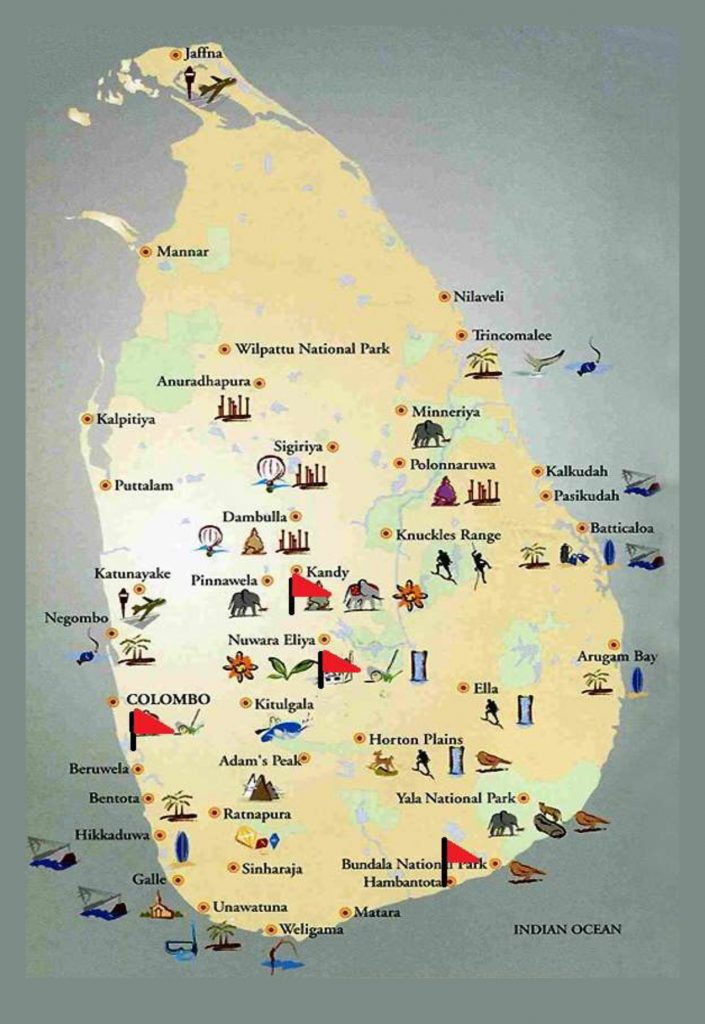 COLOMBO
Colombo, the capital of Sri Lanka, has a long history as a port on ancient east-west trade routes, ruled successively by the Portuguese, Dutch and British. It is the vibrant capital of Sri Lanka that offers various tourist attractions for travelers to visit. The city is a hub for various business, trade and tourism activities in the country. Moreover the city offers historical monuments, colonial architecture, festivals and events, beaches, fine dining, and shopping.
KANDY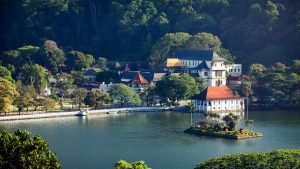 Kandy is a heritage city, known as the hill country of Sri Lanka, which offers diverse combination of experiences with legendry history, culture and simple scenic beauty coupled with a touch of urbanity. The journey to this mellow weathered city can be quite enjoyable, particularly by train owing to the scenic delights that lie alongside with the colonial architecture that has been preserved well even in the backdrop of rapid urbanization. Close to the city's center is the prime landmark – Sri Dalada Maligawa that houses the sacred tooth relic of Buddha. Apart from the ancient monuments of the Kandyan era, the delightful jumble of antique shops and the bustling market in the city also make up for interesting places of visit
PINNAWALA ELEPHANT ORPHANAGE
The Pinnawala Elephant Orphanage is situated northwest of the town of Kegalle, halfway between the Colombo and the hills of central Sri Lanka. It has the largest herd of captive elephants in the world, with
most of elephants having either lost their mother, separated from the herd, or found in the wilderness in an incapacitated state. You may see baby jumbos wandering around their cramped foster home or bottle fed and bathed by their human foster fathers. Visitors are completely enamored at feeding time when the younger babies are bottle fed with enormous amounts of infant formula, which they guzzle down in a few seconds.
DAMBULLA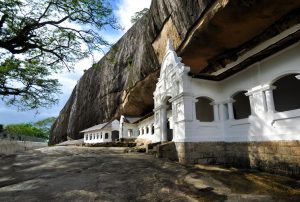 Dambulla is situated in the central province of the island and the city comprises a number of attractions. Dambulla cave temple complexes is the largest archaeological site in the city. You will be able to see five caves with painted ceilings of religious images. There are more than 130 Buddha statues & statues of gods and kings.
NUWARA ELIYA
Nuwara Eliya is known as the little England of Sri Lanka. It is set against beautiful backdrops of mountains, valleys, waterfalls and tea plantations and is 6,200 feet above sea level. The climate, surroundings, and architecture of this area are different than other villages. Top tourist attractions that you may visit in Nuwara Eliya are tea plantations, Hakgala Botanical Garden, St. Clairs Fall, Devon Falls, Galway's Land National Park, and Nuwara Eliya Golf Club.
SIGIRIYA
Sigiriya also known as Lion's Rock is one of the most visited site in Sri Lanka. There is a palace built on top of a 200m high rock by King Kashyapa in 477 BC with the world's oldest landscaped gardens. You will walk through the entrance framed by the paws of a lion and view the beautiful unfading murals that brought Sigiriya its fame. You can see the terraced gardens and still-working cisterns and tunnels in here.
ANURADHAPURA
Anuradhapura was the capital of Sri Lanka from the 05th century BC to the end of the 10th century AD.In here, you can see the most primitive monuments of the country. The City's most renowned relic is the sacred Bo tree, "Jaya Sri Maha Bodhi" .Apart from that you can see Ruwanweli seya ,Thuparamaya, Jetavanaramaya , Abayagiriya ,Samadhi Buddha statue and many other monuments.
POLONNARUWA
A 'World Heritage Site', Polonnaruwa was the second most ancient kingdom of Sri Lanka. You can a have a view on ancient dagobas, moonstones, massive buildings and stunningly statues. The Parakrama statue, royal palaces, Vata-da-ge, Rankoth Vehera, Kiri Vehera, Gal Vihara, Lankathilaka & Thivanka Image House are some of the interesting monuments here.
GALLE
Galle is the capital city of the Southern Province of Sri Lanka. The town has a World Heritage Site, the 3000-year-old Dutch Fort. You can have the experience of wealth of interesting architecture here. It's now housing galleries, cafes, and shops, or fulfilling their initial intended purpose as law courts and administrative buildings. You can have different taste of life in the south of the country in nearby beach towns
BENTOTA
Bentota is a beach heaven in Sri Lanka. It's an ideal retreat for tourist looking for sun, sand and beach. There are ample water sports activities such as scuba diving, snorkeling and windsurfing for you to enjoy. The town also boasts of several fishing areas and colonial-era buildings, which reflects unique charm in them. You will also be exploring two fine mangrove lagoons along with a visit to Kothduwa Temple.
HIKKADUWA
Hikkaduwa, on the southern coast of Sri Lanka, is a relatively small town that has a well-developed tourist industry. You will experience the scenery of offshore coral reef, locally referred to as the Coral Sanctuary or Coral Gardens, which runs parallel to the coast in water shallow enough to swim to from the beach. It is a renowned year-round surfing destination .Moreover Scuba diving excursions are widely available, with visibility at its prime from November to March. You can rent snorkel gear and explore the reef independently or join a glass-bottom boat tour.
TRINCOMALEE
As one of the finest natural deep – water harbors in the world, Trincomalee makes home to pristine beaches of Nilaveli, Uppuveli and off-shore pigeon Islands. It is an utmost paradise for whale watching,fishing, diving, snorkelling, and swimming and for more other recreational beach holidays. Also, it is rich with historical backgrounds called as "Gokanna" in historical inscriptions with diversified collection of ruins, ancient temples, and devales with more archaeological value. The seven hot springs at Kanniya creates an experience with therapeutic properties of water that one should ever have with also pointing roads towards the largest Dutch fort in Sri Lanka.